Residential Solar Systems — Your Questions Answered and a System Designed Specifically For Your Needs
At Apex Solar we offer three types of home solar power systems.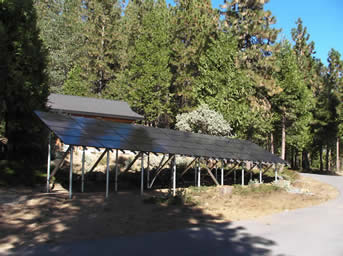 Off grid: these residential solar systems are completely autonomous and not connected to any utility power. Batteries store energy to ensure that even during a stretch of cloudy days or during night hours, power is still readily available.
Grid tie: these systems power your home, and are tied into the public power grid. This allows you to experience the cost benefits of residential solar energy while still having access to the public power grid if necessary.
Grid tie with battery backup: This type of system provides residential customers with all the benefits of grid tie with the added security of a backup supply of energy stored in batteries. This means even if the main power grid blacks out, you'll still have power at your home and your solar panels will continue to produce power, unlike a grid tie system which shuts down during a grid failure.
How On-Grid or Grid-Tied Solar Energy Systems Work

What's the difference between GRID TIE and OFF GRID solar systems?
Grid Tie means that your solar system is hooked into the utility company. Off the grid means you are not connected to the utility company.
If you are on the grid, the utility company stores the energy. The utility company keeps track of the kilowatts you use on an hourly basis. During a sunny day, you can produce more energy than you are using so your electric meter goes backwards and you build up energy credits. The goal of your solar power system on the grid is to produce as much power over a twelve month period as you use.
How an Off Grid Solar System Works