Grid Tie Self-Installed Solar Power for Homes and Businesses
If you're looking for a way to save money on your power bill, increase the value of your home or office, and reduce your carbon footprint without losing the security of the public power grid, then a self-installed solar grid tie system is for you. Although it is perfect for homeowners, a grid tie system is also an effective solution for commercial applications and showcases a company's commitment to sustainability.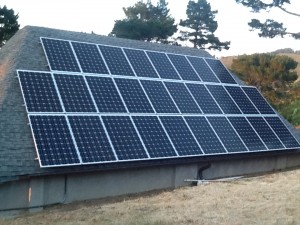 Grid tie systems are available with or without battery backup. Unlike a system without battery backup power, which goes down when the utility grid goes down, a grid tie system with battery backup can use the stored energy in its batteries in an emergency to sustain itself for a set period of time until the utility company can get up and running again. This period of time can range from one to four days, depending on the batteries.
Apex Solar specializes in custom-designed grid tie solar systems both with and without battery backup standby power. Rather than sell components separately, we work with you to determine your goals and careful analyze which components would best fit your needs. Our grid tie solar comes as a pre-programmed, partially assembled system that is specially designed by our solar experts to fit your needs.
A wide verity of modules in 170 to 230 Watt sizes
Nationally recognized inverters; Xantrex, SMA, Fronius, Outback
Unirac solar panel rails, panel clamps, and roof attachment hardware
DC combiner box and fuses (if needed)
MC array cables and grounding lugs
AC disconnect box (if needed)
System installation checklist and wiring layout
10-year warranty for workmanship
25-year warranties on the modules
10-year warranties on the inverters
Assistance from on grid solar experts who are available six days a week via our tech hotline
Top name brands at huge discounts
Peace of mind from knowing that your system is UL listed and code approved
You Can Install Your Grid Tie System Yourself
Although Apex offers installation services within California, our grid tie self-installed solar systems are designed to be very easy to install without specific knowledge of solar panels. Although most clients hire an electrician to handle the job, many of our residential clients tell us that they did it themselves with no trouble. Because Apex can provide a detailed diagram with your system, as well as tech support over the phone, we can guide you through the installation process using our years of hands-on experience to ensure everything goes smoothly.
For more information on self-installed solar grid tie systems from Apex, contact us today. Our design services and solar systems are available to customers throughout the United States; professional installation is available in California.